Rita Wilson never expected to get COVID-19. When the actress, producer, singer/songwriter — and breast cancer survivor — and her husband, Tom Hanks, flew to Australia last winter, she says she took every precaution.
Nonetheless, Wilson (63) and Hanks (64) contracted the virus soon after arriving and went public with the news on social media on March 12.
The "Jingle All the Way" actress recently spoke with HealthyWomen about her experience with COVID-19, her music and her mission to spread awareness about the importance of the flu vaccine.
Coronavirus Down Under
"I could not have been more conservative," Wilson said, discussing how she contracted COVID-19. "I had two performances in Australia — one in Brisbane and one at the Sydney Opera House. I flew on the plane wearing practically a hazmat suit, and I brought my own wipes, gloves and hand sanitizer. I wiped down everything like it was going out of business. I didn't touch a thing!"
When Wilson and Hanks arrived in Australia, she says she rehearsed with her band and didn't hug anybody.
"We were all talking about social distancing. I continued to wipe down everything everywhere we went. I was like Lady Macbeth, 'out, out, damn spot!'" she quipped.
After her show in Sydney, Wilson kept being cautious.
"We were trying our best to do what we knew with the information at that time. Once in a while, somebody would come within your social distancing, six-feet sphere. But that being said, I really don't know where I got it."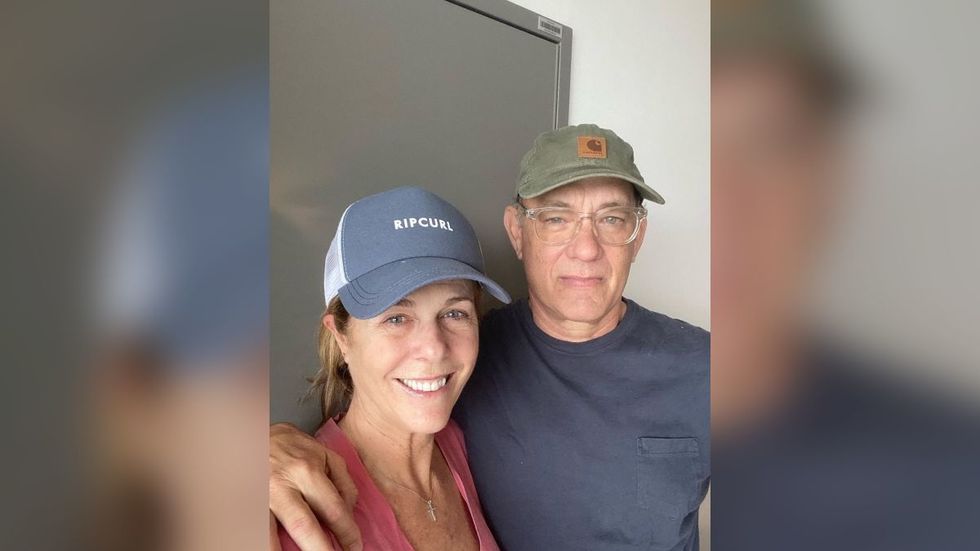 Wilson noted that her COVID-19 experience was worse than she thought it was going to be.
"Everything about it was like the extreme of whatever it was," she explained. "So if you had chills, they were extreme chills. If you had a fever, it was a high fever. If you had a headache, it was like a binding vice around your head that was relentless. It's not like you could take an aspirin and it would go away. Your exhaustion was worse than just being tired with a cold."
When Wilson's fever spiked, after she and Hanks had officially tested positive, they were hospitalized for three days and three nights. Upon release, they quarantined at their rented home in Australia.
"There was a concern, as the fever was escalating. But I stayed extremely hydrated," Wilson explained. "I don't know if that had anything to do with my recovery, if that helped or not. It was when I got back from the hospital that it actually became worse. I became more chilled, still had a high fever, extreme nausea, vertigo, vomiting. It was very uncomfortable."
Wilson said that because everything was happening at the same time, it was even more challenging.
"It's not like you can say, 'oh, it moved into this.' It's basically incapacitating; you can't really do anything, you can't eat anything, you can't talk to anyone. You can't pick up a phone and say to someone, 'I'm okay' or 'I need water.' Basically, because you are at home and can't infect anybody else, you are on your own. There's not anyone who can really help. Fortunately, we [she and Hanks] had each other, so we could at least be there for each other."
Like many COVID-19 patients, Wilson also lost her sense of taste and smell early on.
"I was asking the doctor about that, if anyone else had experienced that loss. But at that point, in early March, no one really knew about that. He said he hadn't heard anything, but then about a week later, he said, 'Oh, by the way, we are starting to get a lot of reports about that.' That lasted for about two months, and it didn't come back right away," she said.
Wilson's sense of taste and smell returned sporadically. "Sometimes I would have it in the morning, and I wouldn't have it for the rest of the day. Eventually, it came back. I am so thankful."
Throughout her experience, the "Girls" actress never lost her sense of humor. "One would think if you lost your sense of taste and smell, that you would not eat. No! 'It's going to come back right when I am in the middle of this bite!' But it didn't," she said with a laugh.
"After two weeks, your appetite starts to come back, and you feel like you are coming out of a brain fog," Wilson said. The third week is really about exhaustion; you are just so tired."
The music continues
Soon after recovering, Wilson was creating music again. "While sheltering at home, I was able to stay creative and write music with my songwriting friends. That's really been great!"
In April, Wilson teamed up with Naughty by Nature to create a remix of their multiplatinum 1992 hit "Hip Hop Hooray," which she learned for her role in the film "Boy Genius." The video was posted on Instagram and immediately went viral; the single was released on streaming music services, with profits benefiting the MusiCares Foundation Inc. COVID-19 Relief Fund to help those in the music industry affected by the pandemic.
Her latest single, "What I Would Say," explores dealing with a loved one who is struggling with addiction. In 2015, Wilson and Hanks' son, Chet, went public about his struggles with addiction.
"Addiction not only impacts the addict, but the people that love them," said Wilson. "A lot of people struggle with the complications and fear addiction of a loved one brings into their lives. In spite of having faith things will turn out okay, it's not unusual to imagine an outcome that you'd never want to encounter. Sadly, this outcome is all too common for so many."
Advocacy
Now fully recovered, Wilson has partnered with the American Nurses Association on their initiative, The Race to 200 Million. The campaign (in partnership with Sanofi) aims to get at least 200 million Americans vaccinated against the flu for the 2020-2021 flu season.
"I don't ever want to get COVID-19 again, and I also don't want to get the flu," Wilson said. "There is this community of people over the age of 50 and with chronic illnesses and/or underlying health issues like heart disease, asthma and diabetes that are really at risk [for both the flu and COVID-19]."
With COVID-19 cases on the rise and the flu season on the horizon, health experts are warning of a "twindemic" and urging Americans to get their flu shots. During the 2019-2020 season, only 45% of Americans received the flu vaccine and an estimated 35.5 million Americans were infected with influenza — with nearly 491,000 needing hospitalization.
Wilson pointed out that 200 million people getting the flu shot this season could greatly reduce the number of people who wind up in the hospital this winter.
"That means that nurses will be less overwhelmed in the health care system, because COVID is still here in the fall and will be here in the winter. That eases the burden on them and on doctors," she said.
Wilson is hopeful people will hear the message and take action. The Centers for Disease Control and Prevention recommends people get their flu vaccine in September or October.
"That's kind of ideal," Wilson said, "but if you don't get it then, still get the flu shot! This is an illness that isn't going anywhere."
Another Illness that unfortunately isn't going anywhere is breast cancer. In 2015, Wilson was diagnosed with breast cancer and had a double mastectomy and reconstruction. She has a message for women who have postponed going to the doctor to get their mammograms or preventive care due to the pandemic.
"My experience is that early detection is critical in what your prognosis will be," said Wilson. "I would definitely talk to your doctor or health care provider about what safety protocols are in place for getting your mammograms [during COVID-19]. You can always do your breast self-exam once a month in the shower, so don't forget about that!"
Resources
The Race to 200 Million

Vaccines.gov

Substance Abuse and Mental Health Services Administration, Hotline – 1-800-662-HELP (4357)

American Cancer Society